Sometimes the question that I ask is, why do this? As in, why go this direction for a Succubus costume? Was this the best you could do or was it something easy that meant you could get past this project and into something else?
Seems like it to me.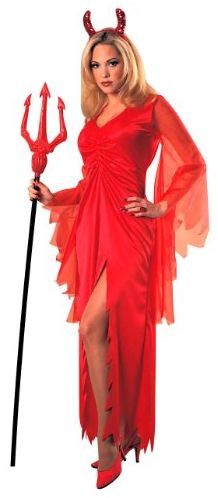 This costume is a bunch of contradictions and misplaced steps all in one convenient package. Oh it looks like it could be promising, just a little bit, but when you really look at it, disappointment reigns supreme…
This costume is called Diabla Devil. But all it consists of is the dress. That's all you get in the package. No horns, no pitchfork, no shoes, nothing save for the dress and your imagination on what you can do with it.
It's a red dress with long, sheer sleeves, a v-shaped neck, and a high side slit. And this sells for $30 USD.
Seems to me at least that paying $30 for a somewhat sexy dress, and I use the term sexy loosely, doesn't seem right somehow.
It could be a semi-decent outfit for a more public get together, but all of the sheer handing off it and the ragged hem of the dress just feels wrong to me. There should be a bit less sheer, a bit more attention to detail and, as a minimum, they should include a half decent set of horns with this costume. Non-sparkly ones and they really shouldn't look like these… Sort of remind me of deer antlers for some odd reason…
I'll think of this as a last ditch effort when all other choices are impossible to use… Good enough to get the idea across. But honestly? Lots better available for around the same price all over the place…
This costume gets one pitchfork out of five…
Good enough for handing out candies at the door, but not something to wear to a more adult party on Halloween…
Tera