For this week's Succubi, I would like to share a work that won second place in an Ecchi-fanartist contest on DeviantArt with the permission of the artist…
This work is called Kalin Succubus and is the creation of the artist DarkShadow…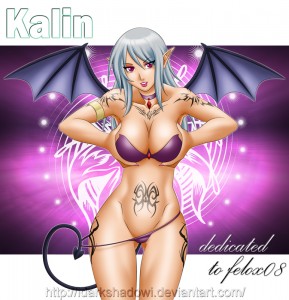 There is so much to love in this work in my eyes… Probably the one thing that catches my attention most of all is Kalin's black Succubus tail. Like all good tails it is being a little bit naughty in pulling at her bikini bottoms. And for me, the mark of a good tail is one that has that little bit of evil naughtiness in it that comes out to play at the right time…
The wings are nice and cute, important as well you know… The smile, the gleam of mischief in her eyes, the bikini she is almost wearing… All of it just comes together to make a cute and sexy little Succubus that I just really like…
It would have been nice for her to have a pair of little cute horns as well, but they aren't totally needed here to be honest…
She's quite honestly one of the best animeish Succubi that I have seen in quite a long time…
You can find DarkShadow's homepage on Hentai Foundry here, and the page with Kalin shown on it here.
They also have a DeviantArt site as well, they do take commission works as well for those that are interested in having something created…
Kalin appears on DeviantArt at this page, and DarkShadow's page is here.
Hope you visit and have a peek at all of the wonderful art there!
Tera