It's interesting to me how some costumes use a word or two trying to make them appear to be more than they really are…
This week's costume is definitely one of those…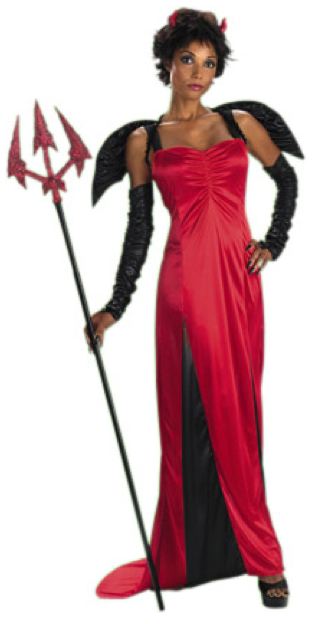 I mean… Where is the desire in this one? It doesn't do a thing for me and, really, who would like this?
Anyway.. This costume comes with the long red dress with the front slit in it. The wings attach to the dress by the shoulder straps and there is a small pair of horns on a red headband. A pair of black glovettes finish this costume.
The pitchfork isn't included nor are the shoes…
The costume itself sells for $20 US, but there is a package deal where you get the pitchfork and a pair of black six inch stripper heels for $70 US in total. Yes the shoes are worth more than the costume itself.
It's just so drab and just not what I see or look for someone playing as a Succubus… You do need a certain amount of sexy to be desirable as a Succubus don't you think?
This costume is going to receive a quarter pitchfork out of five.. That's being generous I know, but there is so very little to like in it…
It's hard to describe this as being trashy, silly, or just a waste of fabric..
Or all of the above.
But there are other, more promising costumes to be founds… Next week will be one of those I promise…
Tera