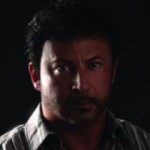 Today I am sharing the last of four posts I have made about Bruce Colero and the upcoming release of his new book of art called Naked Desires here on the Tale… And just over there to the right is Bruce himself from a promotional sheet from his new book that he sent me…
I've been looking, I have really, for signs of horns or a tail in that photo… I'm pretty sure they are there somewhere, but if not, that's okay… I'll put in a good word for him with the Succubi that I know just in case… I mean after all, you just never know what sort of inspiration would be helpful now do you?
*winks*
Seriously though, Bruce is a wonderful person in so many ways… Not just artistically, which is amazing in itself, but as a person that cares a great deal about all of the things he is involved in… Especially his art…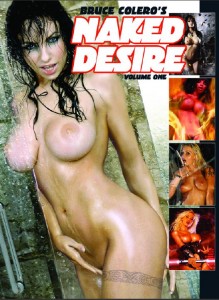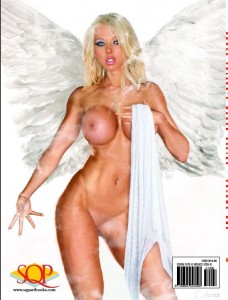 I'm once again showing the cover to Bruce's newest book here to the left, but on the right is the lovely art of an Angel which appears on the back cover of the book.
She's just a gorgeous sexy Angel isn't she? I like her wings very much but more so I like her expression. It's a look that seems to be somewhere between surprise and amusement that she has been discovered… Of course the next question is I wonder who's she looking at and if she did that on purpose?
Angels can be a little devilish too you know… I know one in particular who's halo turns a nice shade of orange when…
*smiles*
Well, you'll have to use your imaginations on that now won't you?
Last Friday I shared an image of a Succubus that had been summoned by an unwary mage that Bruce had created. You can find that post here.
Bruce was kind enough to give me one other image from this book that he said I could share here, which I think is the pinnacle of his Succubi works, and I'm going to share that work with you all today…
There is lots to see in it, and this work by Bruce is called The Covenant…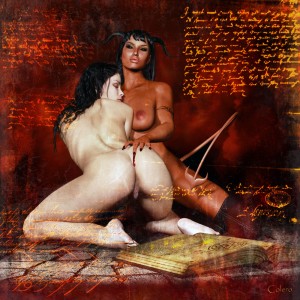 It really is such a very sensual and delicious work isn't it? I love the Succubus' eyes… The darkness that fills them but with the little shine of simmering sexuality and power that she holds within her… The shape and texture of her horns which, for a moment, almost look as if they are her hair flying up, but then the truth of what they are kind of sneaks up on you… And of course her tail… That one perfect tail that I do so much love to see in all of Bruce's devilish works…
The pose of the two models in the work is very erotic and powerful in so many ways… There is a lot of body language in the Succubus that makes the fact she is in control quite noticeable, and her pet, and I think that she is a pet, so very submissive to her…
One of the things that I have been focused on as been the writings in the image… I can't quite make out what the words are, perhaps that's on purpose, but I am curious… Seeing that there is a book positioned on the floor in front of the Succubus and her pet, makes me think that this was a summoning, but I am not sure that it went wrong this time unlike the image I shared last week…
The scene makes me think that the Succubus was summoned by the woman in white, and she succumbed to the Succubus soon after… Now she is being corrupted into a plaything or toy of the Succubus… I see that because of the white skin she has and the look of submission upon her face… Really a hot, sexy, erotic work that Bruce has created here…
After that wonderful work I am sure that you'll want to visit Bruce's website and see more of the erotic fantasies that his vision brings to life…
I hope that you will click on this link and visit Bruce's site at: colero.ca
And you can preorder his new book Naked Desire at: http://www.sqpinc.com/
Once again I want to thank Bruce so very much for his kindness in allowing me to share just a small fraction of the beauty and ecstasy that he has created in the art he has brought to life…
*love and huggles*
Tera