I'd like to tell you a little story today on the Tale about an artist that I think you should get to know a little better than you probably have or do… His name is Bruce Colero and he is, quite simply, one of my artist heroes when it comes to creating art of Succubi… Bruce, for those that do not know, is a Canadian artist, but is also quite well known in the world of fitness through his various companies and products…
The best part of that is the time he is able to place into, what I happen to think is wonderful beyond words, his art and passions within them…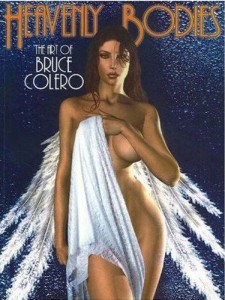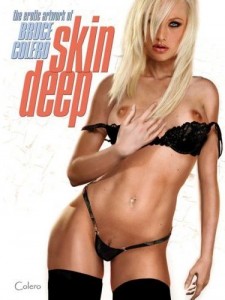 Bruce has released several books in the past, the first of these being the collection called Heavenly Bodies in 2007.
It was a joint work with Sal Quartuccio and is available in hardcover and softcover versions. This image to the left is of the softocver version of the book which I prefer to the hardcover.
That's mostly because the hardcover is a series of smaller images. The issue I have with that is, that seems to reduce the sheer beauty of his works and doesn't really show what awaits you inside when you go past the cover of it…
This is a 48 page collection of Bruce's early works and shows off themes from science fiction to fantasy to everything in-between.  Next week's Succubi of the Week will be the first piece of art of Bruce's that I saw called And Lead us into… Of course it is a Succubus in all of her glory surrounded in flames and power…
Come back next Thursday to see her in all of her Succubi glory…
The second, in 2008, was called Skin Deep, again in conjunction with Sal Quartuccio. This edition was again 48 pages in length revealing the ways that Bruce had changed and, more accurately, transformed his work to a higher level of detail and passions…
It was more of a pinup book rather than the fantasy work of the first book in that there were more images with white backgrounds in them, like the cover to the right here, than there was in the first book.
When you compare the second book to the first, you can see how Bruce progressed from what seemed to be simple works of beautiful women in extraordinary situations, which they were not by any means, to beings of wonder in form, action and desires…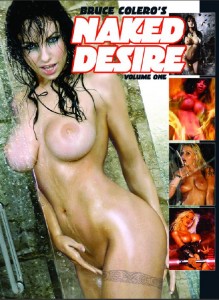 The textures of their skin… The visual feel of their clothing… It all comes together to show not just how far Bruce came in that short time, but it gives a peek into what are, when you think about it, the fantasies and desires of many when we look at a beautiful woman…
It's hard to pick just one image from this book, but there is a Succubus or two as well as some Angels that are sol very delicious in-between the covers…
Now, Bruce was kind enough to give me a few preview images from his new book that is coming out this summer, and so, here first of all is the cover of his new book, to the left, which is titled Naked Desire …
This is of course his third book, and it is, to me, the one in which his talents are stretched to their extreme… The shading, form, look of the women are absolutely perfect in all ways… I don't mean simply physically, but emotionally… If you look at their eyes, the shape of their smile, frown, or moan of ecstasy, you can see the little details that some artists miss… It's a touch of a shadow here, a slight shimmer of light against their skin, the patterning of beads of sweat on their skin… It all comes together to give power to the image…
It becomes less of a painting… a piece of art… and more of a window into a reality that you think you might be able to touch not just see with your eyes…
I have two pieces of art from Bruce's new book to share, but I am going to be a bit of a tease and share one of them today, saving the more delicious one for next Friday just cause…
But I am sure that you have read enough of my thoughts of Bruce's works of the past and want to see something of what he is planning to release into the world so very soon…
And so…
This first piece of art, from Bruce's newest collection, Naked Desire, is called Dark Arts:
Now, to me, this is an image of a traditional Succubus moments after seducing and, for lack of a better word, rewarding a mage for summoning her to his world… She's just finished removing the one that could send her away and is looking over her shoulder, towards the next being she will entwine with her powers to do her bidding as her servant forevermore…
I love the pose and the situation that Bruce has created here. You can just make out the summoning circle, and the books of knowledge with their secrets within. The candles are just right in colour and texture, the floor has little marks and scratches in it showing that it's not a pristinely rendered place. It has a life of it's own that is important and relevant to the Succubus in the work…
There is an interesting effect in her eyes, they just glow in the dark which is a really nice touch to show her power, but not make it the focus of the work too… I am however a little bit on the fence about her tail however… I guess I am somewhat biased to liking the previous red tail that Bruce has used for his Devil Girls and Succubi… I just think that sort of tail matches Succubi better… That's not to say it's not a bad tail or anything like that, just different and I suppose I need to get used to that idea some….
Bruce posted this image originally on his DeviantART site, and you can find that page here: http://colero.deviantart.com/art/Dark-Arts-160877521
I know that you all would love to see the other work, but that, and one other piece of art from Bruce's portfolio will be appearing next Thursday and Friday on the Tale…
Think of this week's posts just setting the table for two pieces of art…
One that has always been a favourite of mine… The other… Oh that's just too delicious for words… I think Bruce really has outdone himself with this one…
Be sure to see next week's Succubi of the Week and next Friday's unveiling of Succubi sexiness that is appearing in his new book as well as a peek at the back cover…
It's well worth the wait I promise…
But while you do… Don't forget to visit Bruce's website at: colero.ca
Tera