Sunday mornings mean time for coffee for some, or hot choc for Succubi like me… That of course means that you need a mug of some sort don't you?
I really like this one a lot…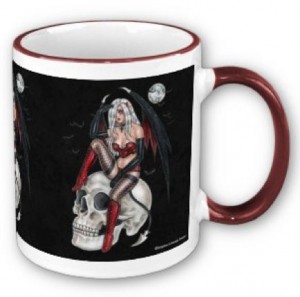 This mug displays the art of Delphine Lévesque Demers upon it. There are several works she has created on Zazle.com on various items such as this mug that are from larger works she has painted. This particular work is called Troubled Memories and it shows what she describes as a Devil Fairy thinking about her past as she rests…
I like the overall mood of this work for the introspection she has upon her face, the way her pose seems to express the things she thinks about, what she has done, perhaps remembering things that she wishes not to have done now…
I'm quite pleased that she has small horns and a nice long tail as well. Her wings remind me a bit of Morrigan Aensland's, they seem to have the same sort of shape and texture to them. Not my favourite thing are wings as regular readers to the Tale know by now…
The larger work is really quite detailed from what I have seen of it, and I hope that you will visit Delphine's website to see more of her works…
You can find this mug on sale at Zazzle.com here.
And Delphine Lévesque Demers' website can be found at: http://www.zerick.com/
Lots and lots of lovely fantasy images to be seen on her site… Really love the faeries and, of course, especially the Devilsh ones most of all!
Tera