This past week I received a link to a page on DeviantArt that shows the work of a Japanese Coplayer. They do a lot of things in the Anime world and, what interests me, is that they have done some cosplaying with Morrigan Aensland of Darkstalkers who is, of course, a Succubus…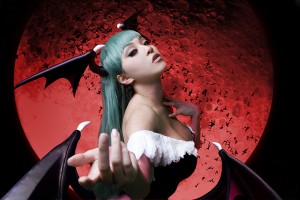 On DeivantArt she is known as VampBeauty, but according to her official site elsewhere her name is Linda Le. She is American, loves anime and cosplay, and her site has literally hundreds of images of her in various costumes playing characters like Morrigan, and Rei.
She also does a lot of original scifi, fantasy and other charcters as well….
I really am amazed at the amount of effort she places into her costume design and creation, it's one of the very best that I have seen on the web and I am quite sure she is very proud of her creations…
You can find her DeviantArt site here, and her official blog site here.
She also has an image on DeviantArt of her as a Succubus, but honestly I really don't like it a lot…
I just can't see the Succubus in this work myself… I means I'd like to, but I just can'y bring myself to accept that she is a Succubus in this image…
I know that this is a mnaip, you can see the original page with this work here, but there is too much blood and gore and not enough sexy succubiness in it for my liking…
I think to be honest that it's more like a vampiress than a Succubus really. The blood on her hands and lips tends to make me think that it is.
I'm not saying that this isn't a wonderful piece of art, but I can't see it as being a Succubus regardless of the title of the work…
I think that she should really consider doing another version of a Succubus, something that reflects more of her beauty in it.
Oddly that makes me think about her wearing blue horns and a blue tail in a green latex outfit… Something tight and slinky that shows off her curves better as it should…
Hoping to see her do something else in a Succubus sometime soon!
Tera