Still poking around the web and seeing what costumes there are for Succubi on Halloween…
This one has a rather large helping of tacky in it really…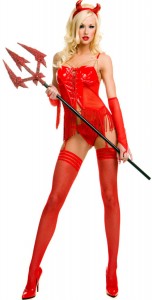 I'm going to call this one Devil Tacky, although on the site I found it they call it Sexy Woman's Devil Costume…
I don't quite know about that…
This costume's dress is made of vinyl and comes with Va pair of horns, a neck piece, long sleeves and the garter. The pitchfork, shoes and thigh-highs are not part of the costume, you have to buy them separately…
It's available for $44 US, but if you look around, you can find it for around $25 in some places…
I just don't like this a lot. There is soooo much tacky that you have to cut it with a chainsaw to get rid of it all and even then I don't think you will be able to work out that miracle… Regardless of all of that, and maybe in spite of it, is there a way to save it?
The basic costume I don't think so. Honestly I don't think a lot about vinyl costumes, the look of them for one thing, they just look cheap and that translates in my mind to tacky…
Another costume that gets half a pitchfork out of five…
There must be something better than this….
Tera