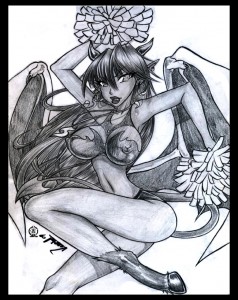 This week's Succubi is something that I rather enjoy a lot in seeing…
After all, succubi cheerleaders would be something to see wouldn't they?
Honestly I think this is just an inspired piece of artwork…
It is the work of an artist on Hentai Foundry that calls themselves Vamptod. They have posted quite a number of works there, but this is the only Succubus work that I could find there….
It is a commission work of a Succubus cheerleader, as you have probably figured out by now…
I love the details in their pencil art, the outfit, pom-poms and overall pose is just delicious, although as always there are a couple of things that I don't like as much…
She does have hooves, never really have liked them on Succubi, and the other thing is that she has wings, something as well that I don't really care for a lot…
But her expression, her horns and especially her tail are just wonderful and I think they are perfect for her…
You can find their page on Hentai Foundry here, and the original page with this art here.
They also have a DeviantArt page, which you can find here as well…
Yummy, sexy, succubi cheerleader…
What more can you ask for?
Tera