Sort of a play on words, but upon seeing this costume and what it is called I couldn't help myself…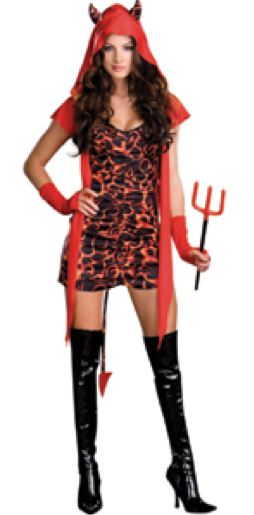 This costume is called Hot Devil and for the life of me I cannot see why this even exists. I mean, really, this looks like a train wreck and then some…
This costume sells for $50 US and comes with, what is described as, a flame printed dress with attached tail, wrap top with hood, a pair of horns, and a pitchfork with attached wrist loop. The boots do not come with this costume, they are $68 US…
I have a lot of issues with this costume, but the main one is, the pattern on the dress isn't a flame one, it's more like a tiger or leopard print than anything else and that just doesn't make this a Succubus costume.
It's just not what I think of when I think of a Devil Girl or Succubus.
I'm tempted by the horns, I'd probably buy them if they were available as a separate item, but I can't vying myself to buy this entire thing for the horns alone…
Overall, this is something you can ignore on your list of costumes I think, I just cannot see how this can be seen as being a good one for playing as a Succubus…
Going to give this one pitchfork out of five, that's for the horns and their tiger-like pattern which I think has possibilities, but the rest of it I cannot really stand…
Still looking….
Tera