Cards anyone?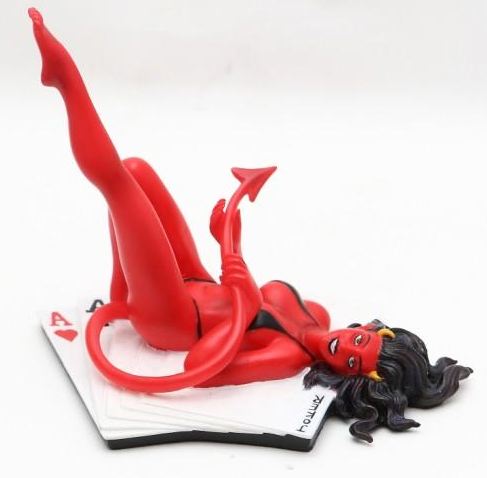 For the last few Fridays on the Tale I have shared some Succubus or Devil Girl figurines that seem to be part of a series…
This is the last one in the series of them…
The silly thing is that I am in the middle of a card game elsewhere on the net and so this is rather an interesting choice to share today…
This figurine is called Gamblin' Lil' Devil Girl "Joker's Wild" Figurine. Bit of a mouthful but it is a good description of her really…
She, like the others in the series, sells for $14 US and she is about four inches in height…
There is quite a lot that I like about her. Her tail is very nice and the expression on her face is quite delicious… Not so sure about her almost white horns, but I can live with it…
I can't tell what cards she is laying on, but I am guessing that it is four aces and then the Joker card as well..
Oddly, that makes me think of the story I posted last week called Playing With The Queen of Hearts….
I think that, when I look over all of the figurines, this one is my favourite for its style, looks, and overall pose and Succubi playfulness…
Really one of the best Succubi figurines I have seen this year so far…
You can find this figurine on sale at this site.
This then brings to a close this series of Succubi figurines, still looking for more and hope to have more soon to share!
Tera