Still on that site again this week… HAve you ever seen those Reese's commercials where they have the people saying things like, "You have you chocolate in my peanut butter" and "You have your peanut butter in my chocolate"?
This costume I think applies to that situation…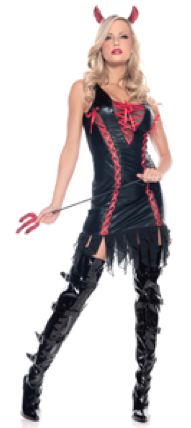 This costume is called Delicious Devil Witch. Not sure about that name, but then I'm not so sure about this costume either really…
What you get is an almost complete costume. It comes with the metallic lace-up dress, a witch's hat that isn't in this image, but it is the usual tall pointed peaked hat you would expect, da pair of evil horns, and a pitchfork.
The boots are not included, they cost $70 US. The costume otherwise is available for $62 US, but they have it on sale on a pre-release basis for only $50.
The first thing I cannot work out is, how are you supposed to wear the horns and the hat at the same time? It just isn't possible as far as I can see, so that probably would mean stuffing the horns into the hat and then putting them on when you are ready to get rid of the hat.
Other than the horns for the Succubus part of this, and the witch's hat for the witch part, I can't quite work out how the rest of this costume works for either role to be honest…
I suppose I can lean to saying that the slightly ragged edge of the dress lends itself to being something worn by a stereotypical witch, but otherwise, it just isn't working for me all that much.
I have to say that my lack of excitement over this concept rates it a mere one pitchfork out of five. I can see the idea, I can understand it, I can even see a way that it could work out, but this one isn't it. I think that it would have been better served if she had heels instead of boots, and a longer dress that was cute lower in the front and allowed for a little tail to be shown out the back and a good deal of leg from a longer skirt on the dress that would add to the mystique of the idea and reflect back to some of the more sexually interesting designs that have appeared in the past for witches…
It couldn't hurt could it?
Tera