Okay, I admit that's a play on words, but how else can you describe this?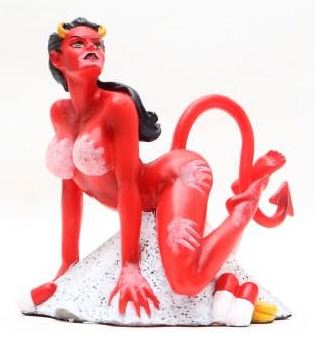 For the last few Fridays on the Tale I have shared some Succubus or Devil Girl figurines that seem to be part of a series…
This is another one of them…
Now I admit that this figurine has a bit of a drugs aspect to it, but let's overlook that for the moment, because I think that with a little effort some of the more blatant things could be removed and still have the overall look of her still remain…
This figurine is called, and really the name is a disappointment, Dopin' Lil' Devil Babe Nose Candy Figurine.
Ugh. Just hate that name with a passion to be honest…
As with the others in this series, you can find this figurine on sale for about $14 in several different sites on the web. She is a bit shorter than the others in the collection, being about three and a half inches in height when compared to the other figurines in the collection.
I would like this better if the drug aspect of it wasn't so obvious… The hand prints on her do I admit make me laugh and giggle a bit…
You can find this figurine on sale at this site.
There is still one more figurine in the collection to share…
More next week…
Tera