Still on that site that will remain unnamed for the moment and looking for something Succubus-like in a costume…
Not really sure this is one or just a copy of something I found earlier in my searching…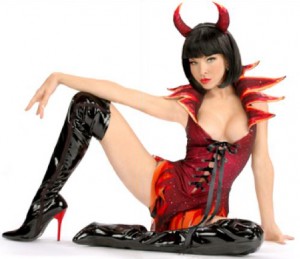 If you click on this link, it will take you to that posting in the Tale which was only on May 5th of this year to compare with this week's costume.
So, again, like the other costume, there is no tail with this one. Shame really as that makes it a bigger disappointment.
This costume is called She-Devil, and it is a combination of several different items available on that site.
The first is the She-Devil dress. It laces up the front and zips in the back. It also comes with a  flamed wire collar and skirt with a panty attached to the skirt. This part of the costume sells for $250. The horns are of the same kind as the ones shown on that other costume, but styled a bit differently to match this costume. They sell for $50. Lastly, the thigh-high boots with the red heel are available for $66. So the complete combination would be $366 in total if you purchased them all together…
I have to admit that the entire ensemble leaves me a bit cold. To be honest, I'd rather be wearing the other costume than this one. The boots are the same from this to the other, like them a lot to be honest, but still, I just can't see the sexy seductiveness in the whole thing… The somewhat trashy side is obvious and I suppose that is what is ruining it for me.
Going to rate this one two pitchforks out of five which is slightly less than the other costume which is of a similar style, but just seems sleeker and better made than this one seems to be…
Sexy and classy are not exclusive to each other I think…
Tera