This week's Succubus is a lovely work by an artist that hopes to make her part of a comic series someday…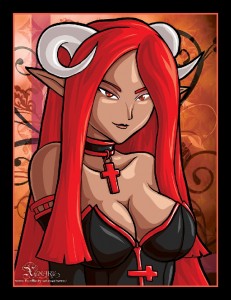 This is the Succubus Ibrianna by the artist known as Xexus.
She is described as being an original character created by him.
She was originally a NPC that was turned into a Player Character in the Big Eyes, Small Mouth roleplaying game. You can read some information on that game here at Wikipedia.
Eventually, he plans to make her the central focus of a comic that he wants to create.
She does look like a suitably evil Succubus, especially in her eyes and the little smirk on her lips. Really an excellent expression of the scheming Succubus as she looks towards her next prey…
Her horns are quite interesting in they are very much ram-like in nature, though with her pointed ears and long red hair, they set off her look really well…
The outfit she is wearing is also quite interesting for the symbols upon it, I do wonder what the bottom half of it would look like. Though my initial thoughts are that it might look like something similar to what the Mabinogi wear.
That in itself would work really well for her I think…
You can find the original posting of this image here at Hentai Foundry.
You can also visit Xexus' webpage at Fur Affinity here.
Please do visit and see more of his wonderful work there!
Tera