To my delight, it appears that someone is producing various Devil Girls and Succubi as small figurines…. Now there really hasn't been a lot of those recently, so this is quite nice to see…
Last week, I shared a figurine of a Succubus wrapped in a dollar bill. It turns out that the correct name of that work is Greedy Lil' Devil Babe. I also discovered a site that has her available along with several other figurines based on similar looking Devil Girls and Succubi…
I had wondered what she would look like from the rear and, it so happens, they have an image, several actually, of that…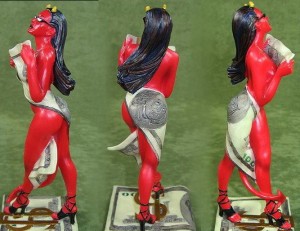 Still really like the design as much as I did before, although her tail looks a bit on the odd side for my tastes…
You can find her here at that website.
I'm also going to share another work that is almost as cute as the Greedy Succubus, but she is doing something with her tail that makes me giggle…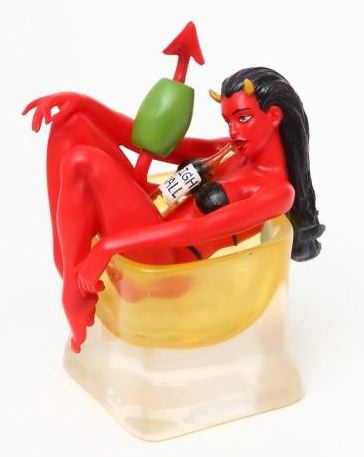 This figurine is called Drunk Lil' Devil, and really I can see that if she is using her tail to hold her olive like that!
The work is about four inches in height and looks to be proportionally correct with the Greedy Devil from last week…
It's also cute that she is resting in a shot glass as well…
Lovely detailing on her, it's a shame she has no shoes though… That I think would have been a nice touch overall to her….
You can find this work available at this website.
There are several more figurines in this series that I will be posting over the next few weeks so please keep watching!
Tera