I don't really like bimboish costumes…. Well, mostly because I am not blonde and, I really dislike trashy stuff…
This costume falls halfway…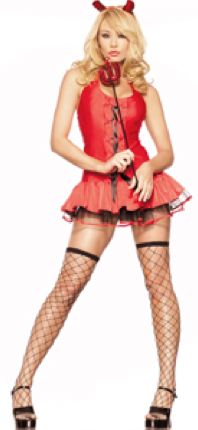 It has that aura that says, Bimbo, at least to me…
This costume is available from that site I have been browsing through the past month or so, and again, it's a combination of several items that are for sale there.
While this costume is not available as yet, you actually get quite a lot with the costume itself. For $40 US you receive a lace-up front mini dress with built-in petticoat, a pair of devil horns, and the pitchfork that is shown in the picture.
The fishnet thigh-highs are separate, but can be bought for $5. The stiletto heels are reasonable priced at $37 as well.
So for less than a hundred dollars you can have a reasonably good costume with all the trappings of a Succubus save the tail.
As usual.
The horns I don't really like, they almost look droopy for some reason. I'd like the mini dress to be somewhat more red in colour as, in this picture, it seems very washed out for some reason.
Still, again, for the cost and for what you get, it's not that bad a deal.
Going to give this costume three pitchforks out of five, mostly for the value that is in this offering, but it's not something that I would likely buy for Halloween…
And in other news…
After doing costumes for a long time on the tale, I have finally added a Costumes Category on the Tail for them… I'll be adding the category note to them all over the next little while…
Tera