I discovered a rather interesting Succubus or Devil Girl figurine this week on eBay and so…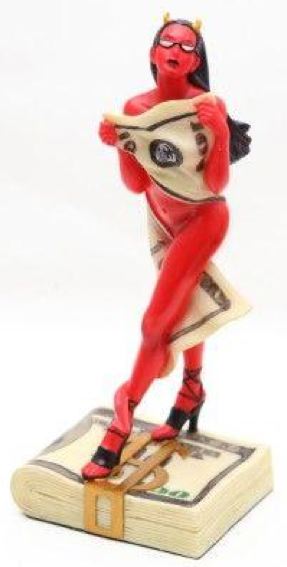 I know that this image is really blown up to the point that it is blurred, but I did want to try and show what the figurine looks like, because it really is something well done I think…
You can find this figurine on eBay here.
She is described as being a Lil' Devil Lady Figurine. Approximately ix and a half inches high, she is made of resin and is hand-painted as seen in the image here. And she is selling on eBay for an opening bid of $16 USD.
I find it interesting that she has horns that seem not to be red like the rest of her. Also I love the twining tail that is wrapped around her leg, that really makes me smile…
The heels she is wearing are a nice match as are her glasses, though I somehow think that black lenses would have worked better for some reason…
I'm going to guess that our Succubus here is nude underneath the money towel she has wrapped around her, would have loved to see the back of her and how much bum she shows or how her tail is sculpted here as well…
I would love to order one of the three figurines that they have for sale, but they do not ship outside of the US so I will have to make do with an image of her…
Nonetheless, this is just a lovely work really, my compliments to the artist that sculpted her and the person that painted her!
Tera