For this week's Succubus image I was looking for something cute more than anything else and I found it I think…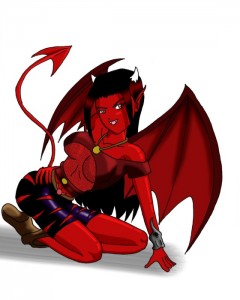 This lovely, cute, delicious work is by an artist named Matt J. H. Wilson and is called Devil Lady.
You can find the original work here on Elfwood.com.
The first thing that catches my eye here is her smile… That one thing makes this work cute and mischievous and that is something that I have always enjoyed…
I have but two little nits about this work, one is her white horns, not really sure about that and the other is her tail which seems, to me at least, to be larger than it should be… But then, tails do have an overinflated opinion of themselves at times…
*winks*
Cute outfit, the colouring and shading is wonderful, and she is truly the perfect image of a mischievous Succubus at play. I do find myself wondering what her name might be… Something cute but just a bit dangerous I would think would be a nice match for her…
Please do visit the link and see all of Matt J. H. Wilson's works there!
Tera