Cuteness counts in a succubus costume… Well at least it does to me… Again this week I am looking on the same site for things I like or think that are promising….
And I think this one really is… I actually might buy this one for Halloween…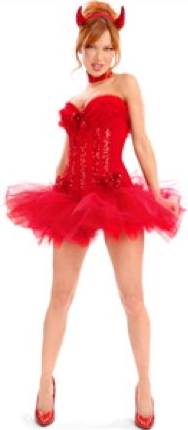 I mean really… This is so cute isn't it?
Now while it is not currently available, the site says that you can expect delivery sometime in September of this year, I think that this is my second favourite choice of all of the Succubus, or Devil Girl costumes that they have on offer there…
This outfit is again, a combination of items they have for sale on the site, and, for once, I think that someone actually took the time to figure out what would look good together…
This costume is made of the costume which is called Carousel Devil, which comes with the horns, which I love, the chocker, a lovely addition, and the corset and the tutu that together match perfectly.
The costume itself is $138 US, which really is a reasonable price for what you get in the package.
The shoes are sequinned to match the horns, chocker and corset and are reasonably priced as well. There is also a sequinned mask available for $35 that I think you would really need to buy to add that little bit of mystery look to this…
I really have to say again just how impressed I am with this combination… This, and the fluffy costume of a few weeks ago are, at the moment, the two choices I have for this year's halloween costume…
All it needs is the right tail and it would be perfect…
I'm giving this four out of five pitchforks because it's cute, looks nice and really has a lot of Succubi yumminess in it…
Really needs a tail and a nice large pitchfork to have the perfect Succubus look to it…
Come to think about it, that wouldn't be that hard to do… I wonder why they didn't offer those as possibilities…
Tera