This week's Succubus  costume is, again, from that site that shall not be named, but considering the number of trashy comments I have made, you can probably figure out which site it could be…
This particular creation begs one vital question… If you have to pay $550 for a costume to look like a Succubus… Shouldn't it come with a tail??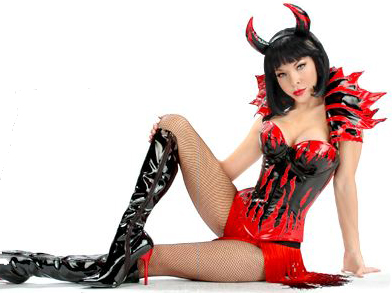 This particular one doesn't for some reason…
This is another combination of items available at that site to create this look. Starting with the horns, which are $40… The corset, the most expensive part of this costume, comes with or without the collar flames attachment. As it is here, it sells for $350. The skirt comes with panties included as part of it, only $90… The fishnets are $4 and lastly, the long boots are $55…
I'm going to focus on the horns for a little bit as really they are the only thing that even remotely interests me…
The first time I looked at them, I thought that it was an interesting mix of colours. The red and black just seemed to be right to me… Bit then, look at the close up, I wonder if these are inflatable horns or not. I also don't think a lot of the really wide band to hold them in place. It could really be a lot thinner and still work I think.
Still, they do match the costume well and that's the important part really.
The skirt, is made of a vinyl fringe that allows the panties to show through, the corset has underwire support in the cups and is also made of vinyl as well.
Overall, I'm not that thrilled with this one. It amazes me that the same company that can design the costume I liked last week could create something like this…
Come to think of it, I would mix the costume of last week with the horns of this week… Might also use the boots from this week's creation as well, but that's about it…
The horns get four out of five pitchforks, the corset and the rest only a two and a hlaf…
We can do better I think…
Tera