I can across something that I have to admit made me shake my head and stare at it in disbelief. There is a certain pornstar who shall remain nameless here on the Tale, but she is a blonde and is one of the most well known names in the industry…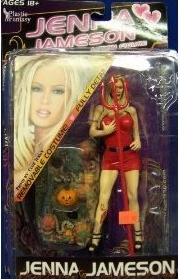 And her initials are J.J… Some time ago, as in around 2002, she was involved in having action figures of her produced… It surprises me how… cheap? It looked for the money they were selling for… Something like $30 each at the time, you can still find this on Amazon for about that it you search for it.
It wasn't really a huge hit I would expect from reading some of the reviews back then, but interestingly enough, the same base model was used for a series of figures, each with a different outfit on them.
There was a witch, a cheerleader, some other similar sorts of things.. But they all had the same figure under the outfits and didn't change that at all between each role that they placed her figure in. They came with a couple of accessories that she could hold in her hand and so forth, but to be honest they looked really cheap.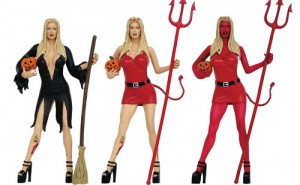 Here you can see three of the figures they produced, the witch, the devil girl and then the red skinned devil girl…
The only real difference between the two devil girls was the normal flesh tone and then the red skinned version of her. In both versions they hold a Halloween pumpkin in one hand and then a pitchfork in the other. They also managed to add a very small pair of horns to each figure within her blonde hair. While the horns and tail did help to make her look more devilish, overall I think that the redskinned devil figurine was a bit of a mistake as her blonde hair clashes badly with her red skin…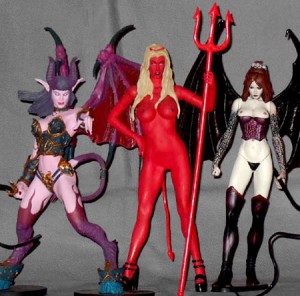 This is an image of the red skinned succubus alongside two of the current most popular succubus models currently available, the Warcraft and Castlevania Succubi.
It's an interesting comparison really, you can see the improvements in design and materials over time from the early 2000s, when the Jenna figure was made, to the last year or so when the other two Succubi were produced. The hair and features on the later models are much better looking, and really the redskinned figurine looks so very wrong being placed with them I think. Being that she is "nude" I think makes it worse to be honest…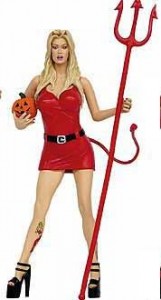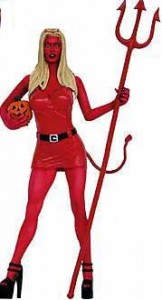 So here are the two devil girls side-by-side to compare a little better…
I just can't bring myself to like the redskinned version of her. Just looks so wrong on so many levels, but the most outstanding one is the way her blonde hair and red skin just doesn't work…
The flesh colored version I think seems to have a lot more detail and really she looks so much better in a red dress that way. Maybe if they had produced a black dress to go with the redskinned version, that might make it look better, but like this, the dress almost seems to vanish against her body as if it wasn't even there…
Technically any of these figurines are collector's items now… I don't think I will add one to our Succubi collection however…
Somehow I think the other ones we have wouldn't want to share the space…
Tera