Still on that site looking at their various Succubus and Devil Girl Costumes again this week, and you know something?
I found one that I actually sort of like…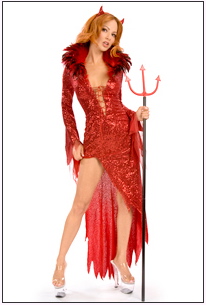 I admit that it is still that side of trashy, but there is a certain amount of cute around this that I like a lot..
This outfit is another combination of several different things that are available from their site.
The first part is the dress which is a sequined dress with long loose sleeves and also  with a feathered collar. The right side of the dress is cut high on the leg and low on the bust. It also has an open, lace-up front that shows a lot of cleavage. The fringe of the dress has a ragged edge, which is something I don't really care for, but we'll get back to that…
The horns are sequined as well and are a separate item from the dress as are the seven inch platform heels with clear tops and the pitchfork as well… The dress lists at $425.00, the horns are $35 and the shoes are $41… So that means this total look costs almost $500… Not including the pitchfork which they do not sell…
Of course, as seems to be happening a lot, there is no tail with this creation, which disappoints me quite a lot to be honest…
I would seriously consider buying this outfit save that, as it is a little too far over the trashy line, it prolly would be only for my Eternal…
Not that I think he would mind…
Three out of five pitchforks, mostly for style and practicalities… save for the shoes… That would be a problem going up and down stairs I think…
More to come…
Tera