I received a sticker in the mail this week, and here's the thing…
I don't know who the artist is, nor does the person that sent it to me… And so I am asking, as I seem to do a lot of times, who is the artist?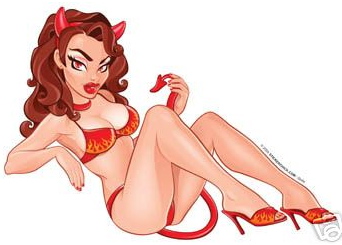 She does look sort of familiar in a way, but I can't place the artist at all in this case…
This is all kinds of cute and sexy, and I really like it a bunch.. Sort of reminds me of Tail a lot for various reasons… Even though her tail and horn color isn't exactly right for that… I especially like the little hint of a smile on her lips and the pose that just says: Hello… Come closer… You'll be happy that you did…
If anyone has a clue of the artist's name, or website, or anything else you would care to share about this sticker, please do leave a comment?
Tera