How much would you pay for a Succubus Costume?
Your soul?
Something else of value?
How about alomst one thousand dollars?
I am not kidding about this… I found a site that sells some very expensive costumes and for the next little while I am going to poke some holes in them..
I might tell you where these are from at the end of this, but for the moment I'm going to keep that a secret…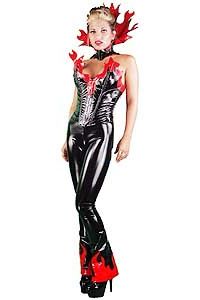 This costume isn't a single outfit, it's a combination of three pieces that you can purchase to get to this look, though I wonder really why you would want to…
The first part is the collar. It is made of vinyl and comes with the flames you see behind the model's head in the image. This is only $250 US…
Next is the corset, which is also made of vinyl, and is, according to the site, closes from the front with a zipper and has laces in the back. This part of the costume is $350 US…
Lastly is the pants which are again made of vinyl, have a zipper in the back and are bell bottomed.. This last part of this costume is $250 US… So, to look like this, you need to spend $850 US…
You know the first thing that came to mind when I saw this? The story of Snow White and what the evil Queen looked like in some of the films and television shows that have more of a modern twist to them…
I suppose that in order to look this trashy you have to spend some money. but this combination just makes me cringe…
I can understand that making costumes out of vinyl can be very expensive… I do really, but the, when you spend that much time and effort, why not make the costume something that isn't trashy in the first place?
The only thing that I would seriously think of buying would be the pants… I can work with those and a red leather corset I have… The little flames at the bottom would be a nice accent to match my corset… But the collar? No way in hell that would make it here…
Some ideas should be forgotten about really…
This outfit gets two pitchforks out of five, but several dozen bags of trash on the trashy scale…
More next week…
Tera