This week's Succubi touches on a few things that I look in drawings of Succubi… They really should be cute, fun and have a certain feeling of bemusement around them… This one most certainly meets all of those points in spades…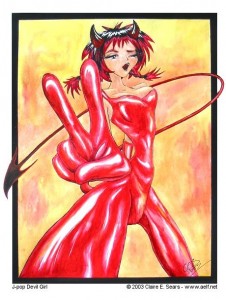 This fun piece of art is the creation of the  artist Claire E. Sears and is titled as J-Pop Devil Girl.
Claire created this image in 2003 and commented that: The idea for this picture came from messing about in my sketches a little while before Halloween and an anime convention I attended, called Ayacon in October of 2003.
I really like Succubi in Latex or similar materials  and this outfit is just yummy for this one to be wearing… I love her expression and the wink she is giving you as if she knows a secret and you don't…. The swooping tail around her is a lovely addition to the image, but I have to admit that I would have liked her horns to match her tail… Black or red it wouldn't matter, I just find mixing colors look a little bit off sometimes…
Getting back to the outfit she is wearing again, I really have to say I love the shimmering light on it, it does make her look a little three dimensional in a way, ot perhaps more accurately, it brings her to life in the art…. I also loke the way her pose is almost like she is stepping out of the frame towards you…
I want to thank Claire so very much for allowing me to show her art here on the Tale, it really means a lot to me that she would allow me to do so!
*huggles*
You can find Claire's site at http://www.aelf.net/
I won't give you a direct link to the page she has shown this work on as the pages on her site change from time to time, so you can have a look at all of the lovely art she has there…
Claire works in several different styles such as fantasy, fine art and illustration… Please do visit her site and see all of the wonderful work she has created!
Tera