I found something really delicious on Amazon last week… So of course I ordered it because… Well it's Succubus related and it's just yummy…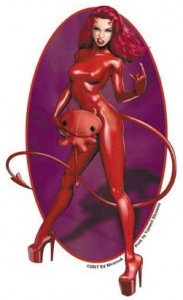 This wonderfully cute work of art is the creation of the artist Ed Mironiuk and is called Cuddly Devil Girl.
This work really speaks to me on a lot of levels… The latex is yummy… The fact that she is a redhead makes me think of my TailSelf in the mythos of my Succubi.. But the teddy bear she is holding? That just brings all kind of giggles to me every time i look at her…
Ed Mironiuk's site, and you really should visit it, has all kind of perfectly sexy images of all kinds of fantasy women… Succubi and Devil Girls are well represented there I can assume you…
There is but one little part of this art that I don't really like, and that is the sort of sneer that she has as an expression… I dunno but I think that giving her something more mischievous or at least a little bit more sexy or erotic would have made this just perfect in my eyes…
I'd love to be able to have him draw my Succubi-self or Tail….
Maybe someday…
Tera