Welcome to April, and the first Succubi Image of the Week of the month!
For this week's image I am dipping into the Gallery of the Succubi here on Succubus.net and sharing the 3D image art of one of our members there…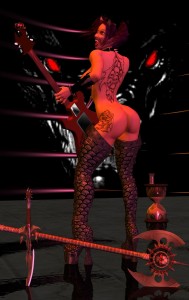 This perfectly devilous work was created by a member of the Gallery who calls themselves Grimslade. and has named this work as Gothrotic Riff…
When you see the full sized image, click on it and then on the next page to see it, you will see all of the details that they put into this work that makes it one of my very favorite 3D images in the Gallery…
What really does it for me in this work is the way that she seems to be in the middle of a performance somewhere.. It's like she is playing for an unseen audience that she has mesmerized with her music and is just about to seal them into her trap..
I wish that she had a tail, but in spite of her not having one, and really in this case I think that she doesn't absolutely need one, she is the image of evilly sexy and deliciously evil Succubus of musical seduction…
Itf you would like to see more of Grimslade's work, please do click on the link to the Gallery in the sidebar and register to see all of the Succubi loveliness there!
Tera