Sometimes you see a costume and the first thing you think is, what were you thinking? This one… oh my… This one is a grade-A prime example of that…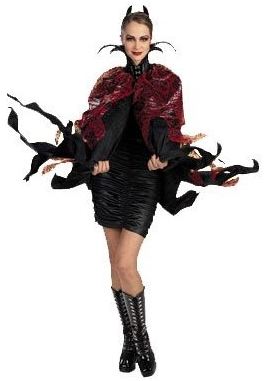 I'm speechless… Completely and totally speechless over this costume. What exactly is this supposed to be?
The information on this costume claims that it is a black and red devil's costume…
I mean… seriously?
Anyway, what you get with this costume is a cape with Black tattered material and printed red shall with an attached vinyl choker…
And that's it.
Everything else, the horns, the boots, the black dress that you can almost see in the picture are not part of this…
I don't think anything that could be added to this could help it in any way, shape or form to be honest…
You can find this for $20 US on the web, but I have no idea why you would want to…
This gets zero pitchforks out of five… Prolly the first time I have ever given zero I think to be honest…
Avoid, avoid, avoid…
Tera