I came across a series of books on Amazon.com about Succubi that bothers me a lot to be honest.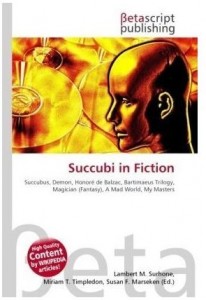 I'm not going to say who the publisher of this book is, but I will note that it does seem to be a reference book to Succubi in fiction.
But here's the thing…
According to the red dot on the cover, the information inside, I think, are articles taken from Wikipedia. And they are charging, for this volume, which is just over 100 pages, $53 USD.
And there are, if you look on Amazon, at least another three volumes of information at that cost available for purchase.
Those other books seem to focus on other such Wikipedia articles which have the word Succubus in them or are connected to them in some small way.
I'm not sure that this work is exactly what I think it is, but to risk that much money on something that could basically be a copy and paste from Wikipedia? No…. No, I'm not going to do that.
Unless and until some kind of preview of this book appears on the web, that feels too much like gambling…
Tera