Domino Masks and Succubi do mix… Well occasionally they do, but that depends on the mask really…
For those that do not know, Domino masks are usually see at masquerade balls when you want to disguise who you are…
Thing is, some Domino masks don't really do that to be honest…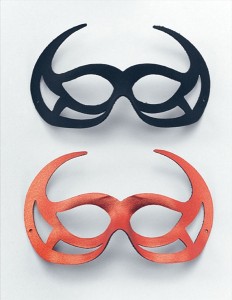 This particular style I have some issues with and I'll have to explain that a little bit…
Most Domino masks cover quite a lot of your face when you are wearing one. I have seen some masks where they leave only your cheeks visible while the rest is covered by the mask or feathers and other things attached to them.
Now, while I understand that this mask isn't exactly made with the same amount of "mystery", I think that decision also makes for an odd looking mask.
That concern comes from the openings in the bottom part of the mask, which I think shouldn't be there. Somehow I think that it would have been better to remove those lower parts and leave this looking more like a pair of glasses with horns on them.
It's a good start, but I just think that it's missing a certain amount of Succubiness in it…
There has to be a story in there somewhere to ponder…
Tera