This week's Image of a Succubus actually answers a few questions for me.. A long time ago I came across an image of a Succubus that was uncredited and I couldn't figure out who the artist was…
This pencil artwork was that image…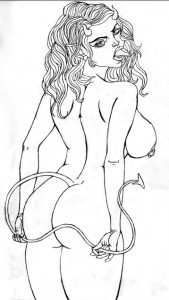 Now, the problem was that although I could find variations on this work, and there are literally hundreds of them if you search for this work, none of them pointed you in the direction of the original artist or anything about them.
So many of those colorizations of this artwork are just quickly done and really just makes her look so unflattering… Especially the ones that gave her blond hair which, to me, just doesn't make any sense whatsoever…
At least until I was looking through Hentai-Foundry.com… And there she was, but now in amazing full colour and more importantly, the original artist's name was with this work…
The artist's name is SteevDragon67, and you can find their page on Hentai-Foundry here.
And more importantly, they show an image there of a completed, colorized version of this art that is, quite simply, devilishly delicious…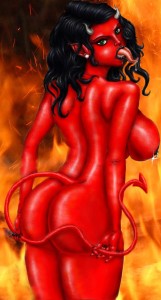 The artist noted that:
Here is a repost of my sultry devil girl. This started as a simple background replacement, but since I now have photoshop I thought I'd give her the deluxe treatment! Let me know what you think! Oh, I added detail to her hair, gave her some skin texture, thickened her tail, and added more boobs and booty!
And more importantly… She's never looked as wonderful in any of her reincarnations as she does right now, right here in this perfect peace of art…
I have always wondered what she would look like in black latex leggings and opera gloves as I think those additions would be the icing on the cake of this work…
The only thing that bothers me a little bit about this work are her earrings, as I just don't quite like their contrast against her skin and hair…
There are a couple of other Demoness and Succubi images on their Hentai-Foundry page, some of which are X-rated and above, so please be aware!
Tera