I have noticed that Morrigan Aensland is one of, if not the most drawn Succubus on Deviantart. I can understand that since she is, and continues to be, so very popular. So many of those works are lovely and beautiful…
And this one, this is really something special I think…
And in case the embedding does not work:
http://www.youtube.com/watch?v=SbaxD_P072U
This is the work of an artist named Discipleneil77 on Deviantart, and you can find their page there at this link.
They have done a lot of art based on the Darkstalkers game, this work being one of them and here is the finished image from the video above: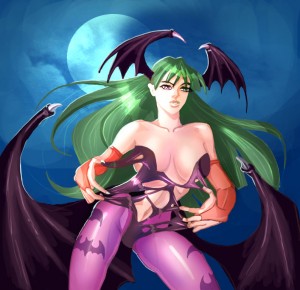 And you can find the original page with this work here.
I love the stylized image here, the slightly hard edges on Morrigan's wings, claws, and body I think work really well. I'd love a bit more detail on her face, but the artist commented that he didn't do so on purpose.
The other thing I would have loved to have in this work would have been a complete drawing of her from her wings to her toes. Nonetheless, a wonderful portrait of Morrigan in all of her glory…
I wish them success in their art and hope that they create more Succubish things soon!
Tera