I haven't posted a World of Warcraft Succubus in some time here on the Tale…
It's time for one to appear again…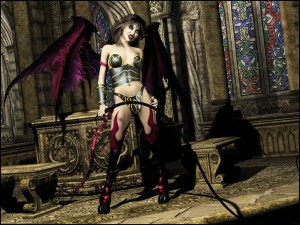 This 3D work is called Succubus and is made by the artist Sartori Tangier. You can find their Deviantart site here.
This is their version of the World of Warcraft Succubus we all know and love. You can find the original posting here.
According to the artist:
She was originally supposed to be just an extra in a much more ambitious piece that I've been working on since the hills were young. But I liked how she turned out, and that other piece may or may not ever see the light of day, so I decided she deserved her own photo shoot. Hope you enjoy.
They used Poser 7, Vue 6, PSP XI in the creation of this work, and really it is most likely the best WoW succubus I have seen in quite some time… The details in her clothing and especially her tail I find just amazing, really almost life-like, and everything in the image just fits so perfectly together!
Please do visit their pages on Deviantart and enjoy their talents!
Tera