And now, this week's Succubus Costume mistake… And it's just huge…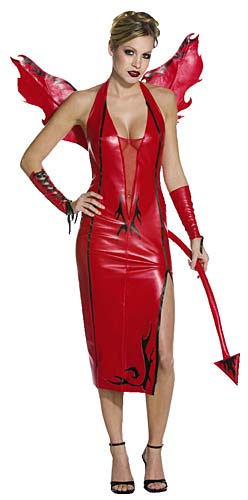 Sometimes I wonder whether it's written somewhere that all devilish costumes have to be a) tacky and b) ugly.
This one is less ugly maybe, but the tacky sticks out like a sore thumb.
The costume includes the vinyl dress, the armlets and the tail, all of which are of the same material. What bothers me s that they show those wings, but do not include them in the package. The shoes as well are not included and horns are not either.
I take this to have more of a Asian theme to it, both in the design and the small marks and motif of the dress. I have to ask the designer of this work a question…
If you were going to include armlets with this, why wouldn't you put opera gloves with this instead?
The way it looks now just isn't right really. They seem unfinished and a bit on the messy side, mostly from the lacing used to hold them in place. If you would have used the gloves, the contrast with the rest of this work would be better and look cleaner I think.
You can find this costume on the web for $68 USD.
I'll give it two pitchforks out of five, but only with the removal of the armlets…
Still seeking something better…
Tera