This week's image is a 3D image of a Succubus that, while done quite a few years ago when the 3D programs were not as advanced as they are now, is really a lovely image of a Succubus…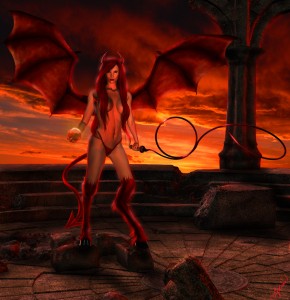 Isn't this a wonderful work?
The artist's name is Ladylydian, and she titled this art as I Do Bad Things. You can fins this work at this link to her Deviantart page.
She describes it as:
Succubus partially inspired by World of Warcraft, and partially inspired by a wonderful artist named prog.
A special thanks goes out to Rhiannon for allowing me to use her Sandra character.
And you can find more of Ladylydian's work on her Deviantart site here. She has created all sorts of works, both photographic and otherwise, all of just amazing quality and passion that is so easy to see in her works…
I like the almost teasingly evil nature of this Succubus, and the way that you can almost hear her voice saying the words, "I do bad things…"
The other thing that makes me personally happy is that she has a tail and horns, something that isn't always in a lot of images of Succubi that I have found…
Please do visit her Deviantart site and enjoy all of her wonderful art!
Tera