Last night I was looking on Zazzle.com for Succubish things… Lots of Succubus things there, mostly very kitschy in all aspects, save for one thing that caught my eye…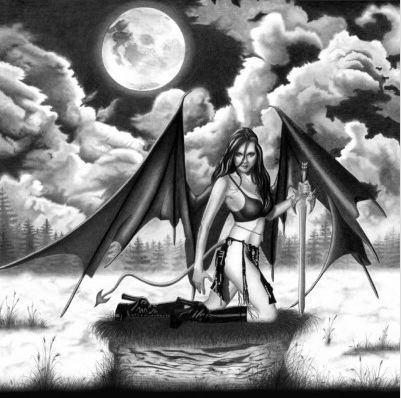 This is the work of an artist named Tammy Pryce and is called Dark Mistress.
I love the overall composition of this work and her wings and tail are lovely, but regrettably she has not horns, which in my thoughts would make her look more complete as a succubus…
The other thing that does tug at me somewhat is that she holds a sword and not a pitchfork which would be more fitting for the overall image I think somehow. I also wonder about her boots, they seem a bit… off? I look at her clothing and they just don't seem to match her boots… Perhaps long laced heels would have been a better choice or change her clothing into something that is a bit less raw and more sexually powerful?
A lovely work, which you can find at Zazzle.com here for purchase as a poster.
Enjoy!
EDIT: I received an email from Tammy's husband with a link to her website. I've added that to my link page, and you can see her lovely art here:
So many wonderful images of fairies and elves and you really should visit!
Tera