This week's Succubi is the gift of a reader of the Tale and a fan of Succubi. He gave permission for me to display this work for this week's Succubi and I thank him so very very much for allowing me to do so…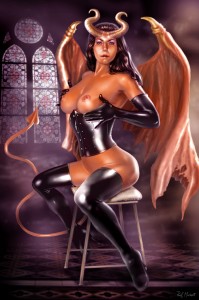 This work of art, and it truly is that and more, was created by the artist rafCut on Deviantart. You can find his site there with this link.
And the original page showing this work is here.
This work was commissioned by Merman1234 on Deviant art and the story behind this work is described as being:
The succubus has married the king of
this realm, and on their wedding night
she reveals her true self to him.
Now she is the queen of the realm!
I am, quite literally, floored by the quality of this work. The shimmer of light on the latex-like clothing she wears is just perfect. Her tail, horns and wings are so finely detailed making them perfectly matched for her body. I love her hair, the textures in it as amazing too… If I didn't know better I would think that this was a posed painting that rafCut worked from, but as I understand it, the only thing he had as a reference was a single photo.
This artist does take commissions, obviously, and you can find that information at his commissions page here.
There is also a blog, written by this artist which you can find here showcasing his works.
Again, many many thanks to Merman1234 (I know their real name, but won't share that)…
*huggles and love*
Tera