I think that this is becoming a theme isn't it? I haven't come across a decent, at least to me, Succubus costume for a long long time…
This one isn't a good one either…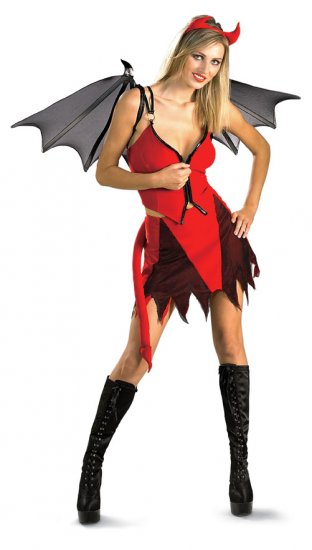 I really think this is tacky beyond words, but this is what you get with this costume in the package. The horns, wings, top and skirt and the rather flimsy tail are included. The boots as shown here are not part of the package when it arrives.
The wings are attached by straps over your shoulders and under your arms, which isn't a good idea because the longer you wear it the more chafing happens. The top is, regrettably, not well constructed as the zipper doesn't take a lot of abuse before it begins to separate and you have to either pin it or tape it in place. The tail is attached to the skirt, but the slightest tug on it will pull it away easily. I'd suggest that you use some thread and stitch it on better than it is.
You can find this costume all over the internet for about $40 USD. I suppose it would be good enough for a "go out to a public party and not show off too much" costume, but the material it is made of, at least in my case, is rough and uncomfortable to wear.
I'll give it just barely one pitchfork out of five, but that's mainly because you can toss the wings away…
Tera