This week's Succubi Image is a deliciously evil 3D creation that I especially want to thank the artist MythArcana for allowing me to post this week on the Tale…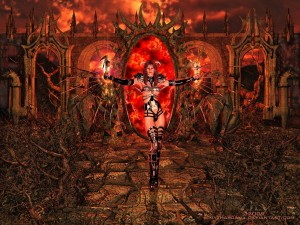 He titled this art Demon's Domain… I'd call it something like Tempting Souls or something similar…
You can find the page on MythArcana's Deviantart site with this artwork here.
MythArcana's work consists mainly of 3D works that he has created in Vue Infinite 6, Poser Pro, Hexagon 2.5, and then completed with some finishing work in Photoshop CS3.
But really you and I have no idea just how much effort and time they have put into this art.
And it is art.
One of the details that I find interesting is that her eyes seem to be part of, or reflecting, the fires of the portal behind her. I would have loved to see her with a nice long succubus tail as well, but that's okay… Her outfit and overall expression and body language is just perfect…
He noted that this creation was a meld of Guild Wars, Diablo, World of Warcraft, Oblivion, and Advanced Dungeons & Dragons. I can see some of those in this work, but I do wonder if this was done again if there would be a little more of the sexuality of the Succubus in her and a bit less of the imposing creature she is…
You can find MythArcana's Deviantart site here. I encourage you to visit his site and see all of the wonderful myths and legends that have been brought to life there. I just wish that there would be a chance to see more of this art…
Talent like this should grow and flourish…
Tera