My search for a good Succubus costume has taken yet another turn for the trashy this week, but let's see just how bad this could possibly be shall we?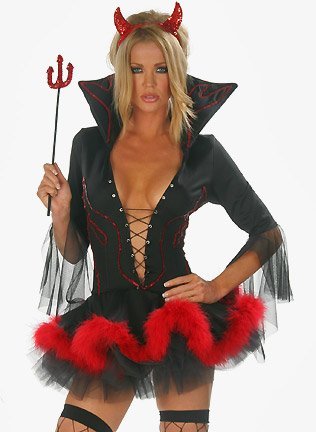 Okay, it's bad.
This costume comes with the horns head piece and the pitchfork. The dress itself is made of acrylic and spandex with lacing in the front of it. There are flame details in it and lastly it has marabou trim on the skirt part of the dress.
Stockings, shoes and anything else do not come with this costume.
I have a bunch of issues with this outfit. Leaving aside the fact that honestly, this is trashy looking and it looks cheap, this just doesn't say Succubus to me.
As an aside, they could have had the model smile just a little bit, but I have a feeling that she might have been somewhat embarrassed to have to model this one.
It's supposed to be a one size fits all costume, so that would explain why it looks so ill-fitting on her.
This sells for $30 USD in adult costume shops on the net…
It gets a quarter pitchfork out of five.
Nothing that I can think of to make it better…
Still looking…
Tera