Cinderella is a story that we all know well don't we? I think that this outfit is trying to turn someone into a pumpkin when they are wearing it…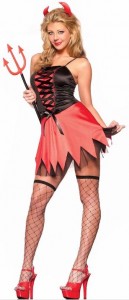 I mean, I just can't see anything but a pumpkin here. All that orange shouldn't be on a costume that is supposed to be succubish…
Come to think of it, this seems like a combination of two ideas/ One being that of a gypsy and the other some horns to make it look like it is another outfit.
What you get in this set is the lace-in-front dress, a pair of horns, the pitchfork and stockings. The shoes are not included, they don't help anyway…
This disaster is on sale for around $30 US in the usual costume shops on the web…
I'd keep the horns, they have a little bit of cute in them, and lose the rest of this. There is no possible way that I can think of to make this better. Well, maybe dye the orange part red and use different stockings with this one…. But that isn't going to fix all of the yuck in it…
I'll hand out another quarter star out of five pitchforks on this one and keep looking…
So should you.
Tera