And so the year comes to an end. As that happens, the Succubi Image of the Week also falls upon this day. I looked into a folder of Succubus images from this time last year and came across this one…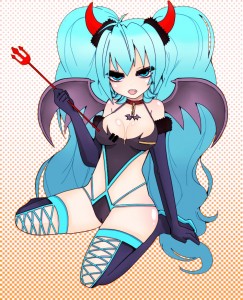 There is an overwhelming amount of cuteness in this work I think. The little riding crop pitchfork is a perfect touch with the whole innocently evil look of her.
I do wonder about her horns though. They sort of look like she has a viking helmet on for some reason when I look at her.
I don't know who this is supposed to be exactly, the image had so information added to it, so that's a big unknown. And once again, the artist's name is not shown, nor do I recognize who it might be.
There is a story behind her I think, maybe someone that is more aware of the anime universe will be able to point out the connections to me.
I can but hope at least…
Have a Happy New Year!!!
Tera