There is an online game called Poxnora, which is also a card game for those that do not know of it. I want to add this game to the Succubus Wiki (see the link in the right side bar called SuccuWiki to see more)…
There are Succubi in this game, I have found some stats and information on them, but I have yet to locate a good image of the Succubus in the game. Not one piece of artwork or a screenshot or anything else…
So I am making a request  here of anyone that plays the game…
If you can take a screenshot of the Succubus and send it to me, that would really help in completing the article in the Wiki on them…
If you know of some artwork on them, that would be wonderful too!
Hoping for some help!
UPDATE!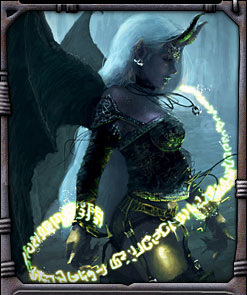 I found one image a little bit ago, it looks to be the Succubus Rune card image, but I cannot confirm this since I don't play this game…
But she looks like a Succubus and it comes from a site which is about the Paxnora game, so, for the moment, I am going to post this image in the Wiki entry for this character on the SuccuWiki.
Again, any help is welcomed!
Tera