It's odd the costumes that come into existence… Some are better… Some are worse…
And some I just look at and start twitching imagining the sort of Succubus that might want to wear one…
Like, for example, this one…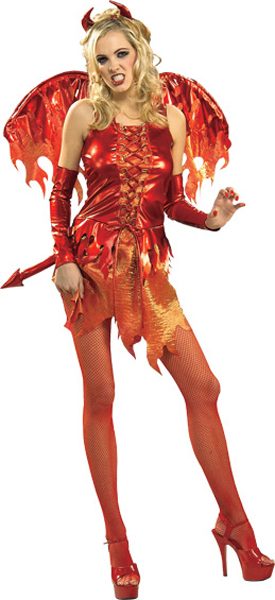 This costume comes with a set of horns, the tail, a lace-up corset dress with the wings attached to it, and lastly a pair of red sleevelets…
This outfit is available in a lot of sites on the web for around $20 USD
And really, that shows in this one doesn't it?
Oh gosh where to start with all of the problems I have with this one…
What was the model thinking when she posed like that? Mebby she's channeling Catwoman or something like that, but she isn't looking much like a sexy Succubus would I think…
Wings? Trashy.. Dress? Looks like it was pieced together from leftover material from other outfits they had made… Horns? Can't see the hairband for them, but at least they aren't radically oversized…
The stockings and shoes aren't part of this costume, and frankly they don't help it at all.
I don't think anything can really…
Going to rate this one a half pitchfork out of five and that is being generous…
I wouldn't pick this one no matter what the cost of it was…
There are other costumes out there far better and sexier than this one could ever be…
Tera