About two weeks ago I posted a little teaser image of the image manip that I have been fiddling with…
Thanks to a good friend on the Garden and the Collective, S.B., I've pieced together a story to fit the image that I have put together…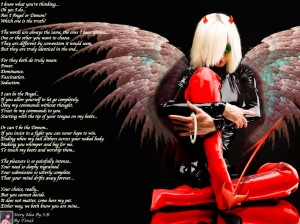 What came to me in the middle of doing this was the thought that there was a reflection between Angels and Demons, or more accurately I suppose, Angels and Succubi…
There are quite a few changes made to this work, her hair was a mess and had to be fixed. Her boots were pink, now they are red. And then of course the addition of her tail, horns, wings and halo. There is also a green tint to her glasses that wasn't there before…
The full text of the story with this image I am posting here for completeness:
I know what you're thinking…
Oh yes I do…
Am I Angel or Demon?
Which one is the truth?
The words are always the same, the ones spoken…
One or the other you want to choose.
They are different by convention.
But are truly identical in the end…
For they both do truly mean:
Power.
Dominance.
Fascination.
Seduction.
I can be the Angel…
If you allow yourself to let go completely.
Obey my commands without thought.
Trust in my commands to you.
Starting with the tip of your tongue on my boots…
Or can I be the Demon…
If you insist in a fight you can never hope to win.
Ending when my tail slithers across your naked body.
Making you whimper and beg for me.
To touch my boots and worship them…
The pleasure is so painfully intense…
Your need so deeply ingrained.
Your submission so utterly complete.
That your mind drifts away forever…
Your choice, really…
But you cannot decide.
It does not matter, come here my pet.
Either way, we both know you are mine…
Thank you, love and huggles for S.B. for inspiring this…
Tera