It's time once again to pick a wanna-be movie from the rental rack at the movie store and see just how bad it could possibly be…
This one is.
So originally it was called The Crier, but was released as Demoness on DVD in the US and Canada… They shouldn't have bothered with that idea…
The box cover so you know what to avoid…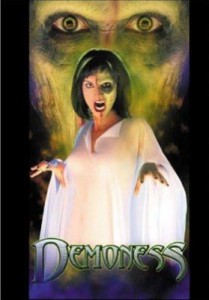 So, the story begins with a man mourning the loss of his wife and moving to Florida to get over her, well at least that's what he is thinking. On the way he sees a witch and she gives him a vial of something called Tears. He brings her back with them, but of course she's not quite the same person.
After that, he calls his friends to join them at an isolated house for a party and as that goes on, one by one the guests get separated from the group and then killed in a variety of blood filled ways…
What has happened is that an Aztec spirit known as the Crier, which is a malevolent female spirit bent on revenge against the living is actually there in place of the wife and so they are all doooooooomed….
While this could have been a decent movie, the overall look, feel, acting and script is dull and lifeless to be blunt. Although the movie is set in Florida, they filmed it i Santa Barbara, California which begs the question, if they are in Florida, where are the swamps that they mention in one of the scenes?
Interestingly, if you get the DVD with the commentary track on it, you can listen to the director and producer talking about all of the mistakes, flubs and errors that are all scattered throughout this movie.
There is no sex or even close-to-sex scenes in the movie, the couples don't seem to be connected together in the slightest, even though most of them are supposed to be married for some time…
Blood and gore are the things that bring color to this work, but that doesn't help a whit…
Getting to the Succubus-like character, The Crier is, to be blunt. single-dimensional in nature, her only concern being getting revenge on anyone she can as quickly as she can by whatever means necessary. Not really Succubus-like, but in a small insignificant way, she could be connected to the myth of Lilith and her desire for revenge on Adam and God…
Personally, I don't see this spirit as being a Succubus, in spite of the movie cover which makes a mention of that point…
I'm going to rate this movie a half start out of five and that is being really generous…
Avoid this, but if you want to get a copy, Amazon has it on sale here.
But I wouldn't…
Tera