I'm still looking at Succubus costumes, yes I know that I have found few that I like and more than a few that just make me go ewww…
But this one I like in an odd way…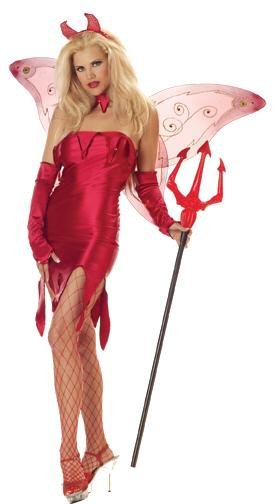 I'll explain that reason why in a little bit…
What you get with this costume is the following: A red satin lycra dress with sequin trimming, a red cloth choker to match the dress as well as a pair of matching fingerless gloves. A headband with soft red horns, and lastly a pair of soft red wings on a wire frame that attach to the back of the dress…
The pitchfork, shoes and fishnet stockings shown in the picture do not come with this outfit…
It sells for $20 USD and can be found on the web at many adult costume shops under it's package name of Sexy Devil Tinkerbell…
Odd name but it fits the look doesn't it?
Now, if you were to wear this, the fishnets and shoes would be a must to complete the look, so that's to be kept in mind on this outfit…
What makes me contemplate this as a choice is mostly for the wings and the dress. I wouldn't do much to the wings, but I would fix the hem of the dress to remove all of that ripped looking material to make it a little classier…
I would also get rid of the fingerless gloves as they look to be the ones that never seem to stay in place once you put them on…
I'll give this 3 pitchforks out of 6… Just because of the idea of Tinkerbell being devilish or Succubish…
Still looking….
Tera