I have always wondered what a Succubus/Furry combination might look like…
And now I think I have a pretty good idea of what they might be…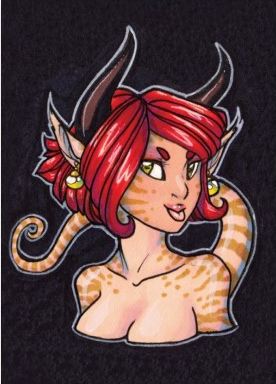 This beautiful image is the work of the artist Teal Newcomb. who's website is at:
And you can find this art for sale here:
http://www.zazzle.com/succubus_aceos_business_card-240391830605424433
I love this art so so so much… The hair and horns are perfect! Looking at it, I does make me think about the AngelKitties in the mythos of the Succubi that I have been working on… She would, I think, look sort of cat-like except for her tail, which obviously isn't a cat's tail I think…
There are so many lovely works on his website and I hope you visit him soon!
Tera