My hubby and I were going through a used book store this morning and came across two books which have nothing but art of Devil Girls and Succubi in them.
They are titled Devil Dolls 1 and 2 – A Gallery Girls Collection, and here are the two covers of the books: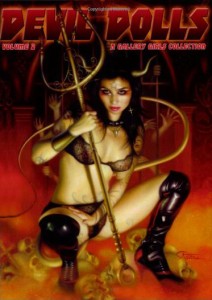 These books have artworks by all kinds of artists. A short list of them includes: Perez, DeSimone, Marachi, Sosa, Pelaez, Arantza, Arantza, Colucci, Meriggi, Cuevas, DeSimone, Mitch Byrd and many others… Far too many to list really…
If you like Succubi and or Devil Girls, and if you are visiting here you probably do, then these are two wonderful books of art you should consider.
We were lucky to purchase the pair of them for $20, you can find them both still listed on Amazon.com for $10 each. Both of them are 64 pages long and are sort cover books. They were first released in 2005 and 2007 respectively, so you might find that the quality of the paper in them is a bit suspect unless they have been looked after well or you get a later printing of them if you are lucky…
Bottom line is that there is lots and lots of Succubi yumminess in them both!!
Tera